Low Silica Stone & the Resurgence of Veneer with Solid Timber
The joinery industry is constantly evolving to meet the needs of clients and to stay ahead of emerging trends. At KIS Joinery, we pride ourselves on being at the forefront of these developments. In this update, we'll explore two recent innovations that are taking the joinery world by storm: low silica stone for benchtops and the resurgence of veneer and solid timber for joinery. These exciting materials promise to transform the way we design and create beautiful, functional spaces.
Low Silica Stone for Benchtops:
The use of stone benchtops has long been popular in both residential and commercial settings for their durability, elegance, and timeless appeal. However, traditional stone materials like quartz and granite can contain high levels of silica, which can pose health risks to those working with the materials.
Enter low silica stone by Smartstone – a ground-breaking solution that offers the same beauty and durability as traditional stone materials, but with significantly reduced silica content. This innovative material not only reduces health risks for those working with it, but it also provides a more eco-friendly option for clients who prioritize sustainability in their design choices.
Some key benefits of low silica stone include:
Enhanced safety: With a lower silica content, this material poses fewer health risks to those who work with it during fabrication and installation.
Sustainability: Low silica stone is a more environmentally friendly option for clients concerned about the environmental impact of their choices.
Wide variety: Just like traditional stone materials, low silica stone is available in a range of colours and patterns, allowing for stunning design possibilities.
Also Caesarstone Australia are heading in the right direction with their porcelain selection

https://www.caesarstone.com.au/porcelain-collection/
The Resurgence of Veneer and Solid Timber:
In recent years, the joinery industry has seen a resurgence in the use of veneer and solid timber. These materials have a timeless appeal, making them perfect for clients seeking a classic, warm, and natural aesthetic.
Veneer, which is a thin layer of real wood bonded to a stable core material, offers the beauty of solid timber at a more affordable price point. This makes it an attractive option for clients looking to achieve the look of solid timber without breaking the bank.
Solid timber, on the other hand, is a premium material that offers unparalleled durability and longevity. The unique grain patterns and warm tones of solid timber make it an excellent choice for clients seeking a truly bespoke and luxurious finish for their joinery.
Both veneer and solid timber are available in a wide variety of species and finishes, providing countless design possibilities for clients to choose from.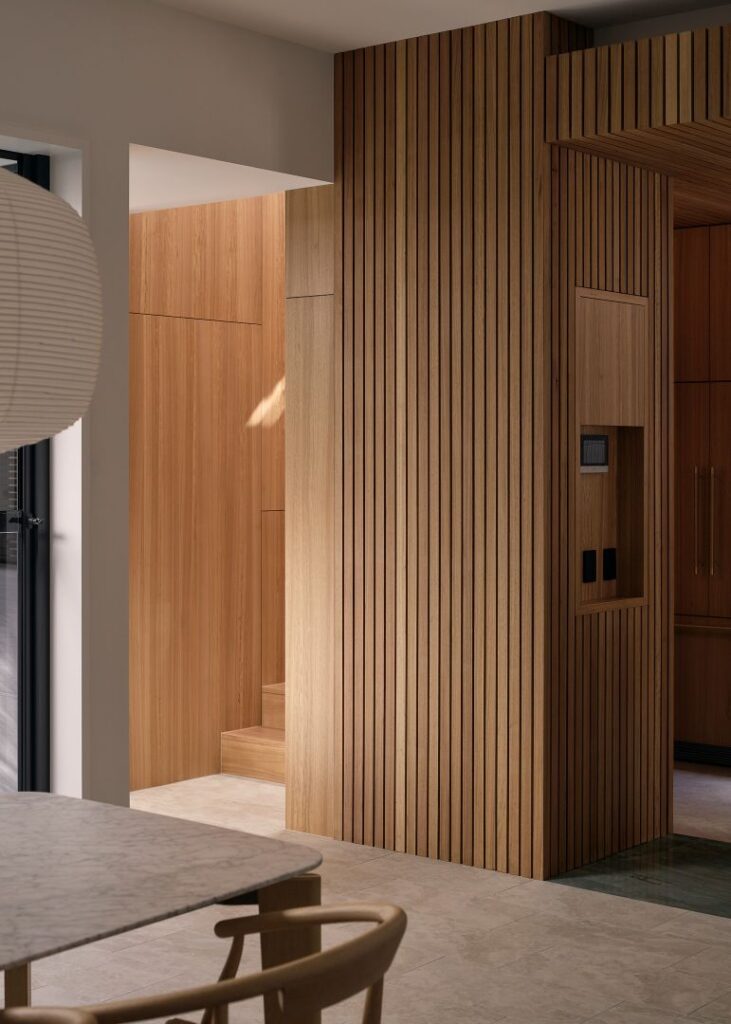 KIS joinery's commitment
At KIS Joinery, we are committed to staying at the forefront of industry innovations and providing our clients with the latest materials and trends. The introduction of low silica stone and the resurgence of veneer and solid timber offer exciting opportunities for designers and clients alike. To learn more about these materials and how we can incorporate them into your next project, contact us today.